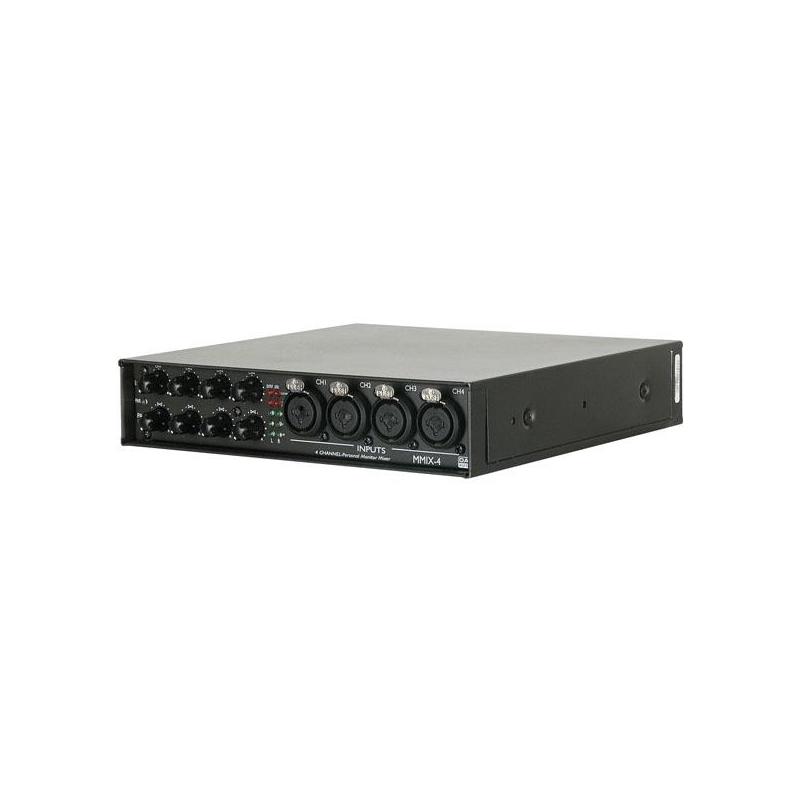  
MMIX-4
4-kanaals persoonlijke monitor-mixer
Security policy: Rombouts garandeert uw privacy

Delivery policy: wij werken met Post NL en met afhalen in de winkel

Return policy: producten kunnen geruild en geretourneerd worden, zie onze voorwaarden onderaan de pagina.
• XLR-/Jack-combo-inputs
• Gespleten outputs
• Compact
• Ideaal voor in-ear pre-mix
De DAP MMIX-4 is een eenvoudig 4-kanaals mengpaneel dat gebruikt kan worden voor veel toepassingen. Vanwege de gespleten outputs is het ideaal om als sub-mixer of monitor-mixer te gebruiken, wanneer u een in-ear-systeem gebruikt. Het heeft 4 combo-inputs voor line- of instrumentsignalen en een aux-input die het gemakkelijk maakt om uit te breiden indien u meer MMIX-4-mengpanelen wilt combineren.
Inputaansluitingen: XLR / Jack combo
Aansluitingen hoofdoutput: 6,3mm Jack
Aansluitingen aux-input: 6,3mm Jack
Aansluitingen split-output: XLR
Uitgangsniveau (max): 6,5 dB
Frequentierespons: 22-22.000 Hz
vervorming: <0,025%
Ruis: <61dB
Ingangsimpedantie: 5,9 KOhm
Aux-impedantie: 18,2 KOhm
Uitgangsimpedantie: 1KOhm gebalanceerd/ 500 Ohm ongebalanceerd
Afmetingen: 205 x 212 x 43,5 (DxBxH)
Stroomverbruik: 12Watt
Gewicht: 1,41 Kg
Manual download link:
http://www.highlite.nl/silver.download/Documents@extern@Manuals/D1965_MANUAL_GB_V1.pdf