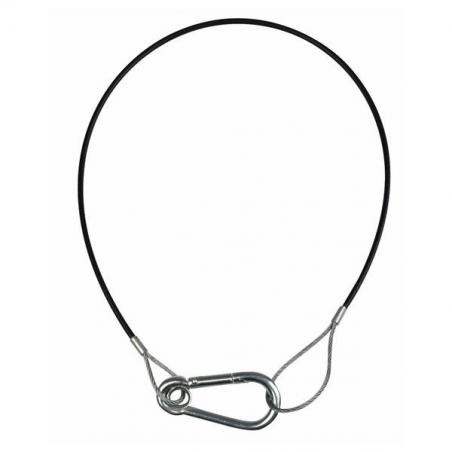  
Safety Cable Light Duty, 50 cm
Showtec Safety Cable Light Duty, 50 cm
2/3 mm 50 cm - met zwarte PVC-coating, niet gecertificeerd
Inclusief: vaste karabijnhaak
Afwerking: met zwarte PVC-coating, 
gegalvaniseerd
Maximale werklast: 40 kg
Veiligheidsfactor: 5:1
Aantal strengen
x aantal kabels: 6x7+TK
Treksterkte: 1770N/mm²
Security policy: Rombouts garandeert uw privacy
Delivery policy: wij werken met Post NL en met afhalen in de winkel
Return policy: producten kunnen geruild en geretourneerd worden, zie onze voorwaarden onderaan de pagina.
Veilige montage met veiligheidskabels:
mobiele verlichtings-, beeld- en geluidsapparatuur moet door twee onafhankelijke apparaten stevig op zijn plaats worden gehouden. De typische mobiele, hangende of vaste apparaten in de evenementen- en productietechniek zijn floodlights, effectentoestellen, luidsprekers, draagconstructies en trussen, montagebeugels, spiegelbollen, monitoren, projectieapparatuur en meer. In de hier beschreven gevallen bestaat een veiligheidselement (tweede onafhankelijke veiligheidselement) uit een staalkabel, een kabeluiteindeverbinding en een verbindingselement. De afmetingen van de elementen zijn gebaseerd op de dynamische krachten die optreden wanneer de elementen een belasting opvangen. Veiligheidskabels bestaan uit een staalkabel conform DIN 3060 (rondstrengkabel, 6 x 19 standaard, met vezelkern), met een nominale kabelsterkte van 1770 N/mm2. Snelle schakels, kettingschakels, schroefhaken of sluitingen kunnen altijd worden gebruikt als schakels in veiligheidskabels. Er moet een veiligheidskabel worden bevestigd om ervoor te zorgen dat de valhoogte van het te bevestigen voorwerp zo laag mogelijk is. De valhoogte mag nooit meer dan 20 cm zijn! Als een voorwerp in het veiligheidselement valt, wordt de kabel blootgesteld aan impulsspanning. Deze impulskracht wordt gedeeltelijk opgevangen doordat de kabel wordt uitgerekt. Bij de bevestiging aan mobiele lamphangers moeten de veiligheidskabels zodanig worden bevestigd dat de valhoogte niet meer dan 5 cm bedraagt, zodat de impulskrachten die op de lamphanger inwerken niet te groot worden wanneer een last valt. Een veiligheidselement dat belast of zichtbaar beschadigd is, mag niet meer worden gebruikt. De veiligheidskabel mag niet worden gebruikt als verbindingskabel voor algemene hijswerkzaamheden.


Geen klantenbeoordelingen op het moment.
Uw beoordelingswaardering kan niet worden verzonden
Rapporteer reactie
Bent u zeker dat u deze opmerking wil rapporteren?
Melding verzonden
Uw opmerking is ingediend en zal door een beheerder worden behandeld.
Uw opmerking kan niet worden verzonden
Beoordeling verstuurd
Uw beoordeling is toegevoegd en wordt beschikbaar zodra deze is goedgekeurd.
Uw beoordeling kan niet worden verzonden
Klanten die dit product aangeschaft hebben kochten ook...